Suraj & Herat Land Mines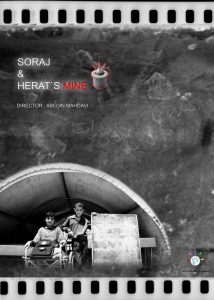 Sorj is an Afghan child who lives in Harat. He lost both his feet and one finger of his right hand in a mine explosion.One day Sorj and his friends go to the northern hills of Harat to play. He suddenly steps on a mine and…
Production year: 2001
Film format: 8mm
Duration: 13 minutes
Deported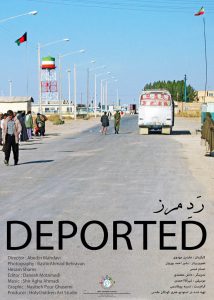 It's the story of an Afghan child who immigrated to Iran during the reign of Taliban to begin a new life in Tehran. At the age of 4 or 5 that he cannot remember, he lost his mother. Days after days officials looked for his mother but they cannot find them so they send him to the UN office of immigrant's return and they decided border trace for him.
Since then he is looking for his parents. He has grown older; he studies and works in a socks workshop. He spends his nights in the orphanage of Harat with the hope to see his parents once again.
Immigration and its consequences are one of the results of war and they affect children more than others.
Production year: 2005
location of production: Afghanistan
Film format: DV
Duration: 40 minutes
The Immediate Immigration

In December 2005, a C130 military aircraft was assigned to take journalists, cinematographers, photographers, documentarists and other media workers to south of Iran to cover a military maneuver. A few moments after taking off, the aircraft crashed into Towhid buildings and all our friends passed away.
This documentary movie shows the time when rescuers arrived to find the corpses of our loved friends, if there is any.
Production year: 2005
location of production: Iran
Film format: DV cam
Duration: 10 minutes
Home is the end of life

It is two years after the earthquake in Bam.People are still suffering the hard situation of life in Bam and the process of rebuilding is a little slow because the city is ruined to a large extend. Despite all these problems, people think about home hopefully and with reliance on God. And life goes on.
On first day of school, children of Bam pledge themselves to kindly rebuild Bam and Arg-é Bam as their predecessors.
Production year: 2007
location of production: Iran
Film format: DV cam
Duration: 37 minutes
Generation of Pain

It is years now that the Gaza Strip is under siege of Israeli forces. On the first day of New Year in 2010 this regime attacked Gaza Strip with all its military forces. In just 21 days Israelis carried out a massacre violating all human rights mentioned in the UN treaties. Their purpose was a barbaric genocide.
In these 21 days this regime used white phosphorus munitions which is a mass destruction weapon and is prohibited by the UN.
Children of Gaza were harmed severely in that dark January.
Production year: 2009
location of production: Iran – Gaza
Film format: DV cam
Duration: 53 minutes in two parts
Dazan School Children

Top students of Shahid Bahonar University of Kerman, who are from different parts of Iran, take part in a charitable tour in one of the most dangerous and remote parts of Kerman called Dazan. They build a school for slum dweller children of this village (Tabahg Namad) under very hard conditions. During this time a friendly relationship forms between these children and the students. The students try to teach the children lessons of life.
Production year: 2008
location of production: Iran
Film format: DV cam
Duration: Two parts of 25 and 21 minutes
Need

Pakistan flood was one of the natural disasters that happened in 2010. The annual heavy rains caused the overflow of Panjab River and also the crisis in the country. The flood was so heavy that just in four days affected all the country from north to the suburbs of Karachi in the south. Thousands of people died and thousands were homeless.
Our loved country Iran was the first country to send aid. The Red Crescent took the medical aid and food from either the government or people to Pakistan and set up accommodation camps in different parts of the country.
Production year: 2010
location of production: Pakistan
Film format: HD
Duration: 22 minutes
Drawing Parade

A short film about the effects of drawing in societies and it's critical power. Drawing, like any other artwork in the world, can be an important tool to criticize community, politics and culture.
Production year: 2011
location of production: Iran
Film format: HDV
Duration: 9 minutes
Poesi utan gränser

Reza Rezvani, Iranian Poet and Writer, living in Sweden, who writes poems in 4 languages and has published various writings has established an organization called " Poem without Border" and every year holds a poem festival for young refugees in Upsala,Sweden in which the the participants read the poems in both their mother language and swedish.
Reza Rezvani finds "Poem without Border" a way of communication among nations.
Production year: 2011
location of production: Sweden
Film format: HDV
Duration: 26 minutes
Haiti is Alive

On January 12, 2010 an earthquake measuring seven on the Richter scale happened in Haiti capital in Hispaniola Island in the Caribbean. After a weak, number of death was stated more than 230,000. As it was one of the most catastrophic natural disasters in the present century, many rescue groups and organizations flooded the Haiti. However, during this severe crisis many news agencies reported disorders after the earthquake and even some conflicts. This reports caused a false inhumane picture of Haitians that, after a while, was corrected for everyone.
Production year: 2009-2010
location of production: Haiti
Film format: HDV
Duration: 58 minutes
Los hijos Revolucionarios

After the severe earthquake in Haiti, rescue groups and humanitarians with different skills, from all over the world began their rescue, medical and social activities in different areas. Due to shorter distance and particular local and national beliefs, Latin American countries reached the area before others and did notable things.
Venezuelan, Cuban, Argentinean, Peruvian, Bolivian and… youth entered Haiti as medical groups. During their long-time humanitarian activities, emotional ties were formed between these groups and the suffered people of Haiti. These young groups continue their humanitarian activities all around the world – mostly in deprived and critical areas- with their revolutionary beliefs. They know their presence in Haiti as their duty.
Production year: 2009-2010
location of production: Haiti, Venezuela, Cuba
Film format: HDV
Duration: 54 minutes
Here is our Home

"Koodak-e-Mehr" is a small school established by two propitious siblings and some educated youth in one of the poorest regions in south Tehran to help street children study. These children has just been working and not studying but now they spend most of their time in this house and know it as their own home.
Each of these children has had a tough life and are facing many problems.
In this film, Abedin gives the camera to the children to teach them how to film each other.
Production year: 2011
location of production: Iran
Film format: HDV
Duration: 44 minutes
Why War ?

The world, in all its history, has only seen two hundred years with no war and in peace.
In the present century and after World War II, the anti-human concept of war turned into a game for politicians and war lovers. Many people have earned a lot out of these wars. In these wars most clauses of the Unites Nations Human Rights convention were violated by these war lovers. Documents of these wars and violations will be evidential in history. These documents are still being published.
In most wars of present times, these war lovers profit and people around the world are standing against it.
Production year: 2010-2011
location of production: Iran, Sweden
Film format: HD
Duration: 93 minutes
Welcome to Mogadishu

Somalia, a country in North Africa which gained independence in1991 and 1992, has ever since been in civil war and extreme poverty. War and natural disasters has Somalia the poorest and the most dangerous country in the world.
In 2011 Somalis faced widespread famine, many died and many others flooded to Kenya's border. Even during famine conflicts between the interim government and Al-Qaida (Al-Shabab) and UN forces continued and people were under more pressure. Therefore more Somalis died.
Even in these crises there are a lot of humanitarian acts that need to be seen!
Production year: 2011
location of production: Somalia
Film format: HD
Duration: 63 minutes
Embryo Convicted, 2011, ( has been stopped )

"Embryo Convicted" is Abedin's first fictional cinematic movie which its subject deals with Iraqi war-stricken children.This project was stopped in Iran because of the authorities' hostility towards him and no license was issued. He decided to take the project outside the country.
Production year: 2011
location of production: Iran-Iraq-Swiss
Film format: Cinema
Duration: at least 110 minutes
Mio Fratello

Gaetano Di Fillipo, prominent Italian photographer and journalist and professor of photojournalism in photography universities in Rome has worked with famous newspapers and magazines in the world such as Newsweek, AP, New York Times &…
His friendship with Abedin led him to Iran to photograph Ashoura ceremony in Khoramabad,Lorestan. He has been doing photography and researching about religions for many years. Shia has become important and interesting to him that's why he is trying to reach a more complete cognition.
He likes Iran and it's people much and believes western media is depicting a false image of Iranians to the world.
Production year: 2013
location of production: Iran
Film format: Full HD
Duration: 27 minutes
Pain & Love

This is the first experience of Video Concert in Iran which is directed by Abedin Mahdavi. The subject of this Video Concert is children suffering Hemophilia. Abedin and his team in  "Humanity film Institute" directed it and gathered grant-in-aid for Iranian Hemophilia Association. The difference between this Video Concert and other Abedin's works, is a documentary playing alongside a live concert with a parallel directing. "Nioush" Band" having Sorush Ghahremanlou as leader, plays live in this  artwork.
Production year: 2014
location of production: Iran
Film format: Full HD
Duration: 72 minutes
Play for Peace

In 2014, Abedin Mahdavi performed the idea of "Ball of Peace" with the signatures of Iran national football team members on a soccer ball. "Play for Peace" video clip, with the subject of under war children and world peace was directed with this ball and depicted Iran national football team with peace and love messages to the world in World Cup 2014, Brazil.
Production year: 2014
location of production: Iran
Film format: 2k
Duration: 6 minutes
Mort d'illusion

This is the story of "Holy Children Art Studio" being shut down and forced to sell it's properties after 8 years of working about children and under war children due to the difficulties caused by art and cultural system in Iran. TAVAHOMMARGI  is the story of artists, forced to stop working or closing their art studios under the pressure of art and cultural system. In this film, TAVAHOMMARGI is the name of a particular mental illness, causing the artists to delude themselves into believing that they're dying very soon.
Production year: 2014
location of production: Iran
Film format: Full HD
Duration: 14 minutes
Green Line

Somalia is facing war and poverty for many years and the African branch of Al-Qaeda, Al-Shabab is their biggest problem nowadays.
Al-Shabab has occupied some regions in the country and is even controlling some parts of Mogadishu, Somalia capital, drawing a border between government forces and people called " The Green Line"
Production year: 2011
location of production: Iran
Film format: HDV
Duration: 72 minutes
The Angels

Some of the Iranian residents of Sweden have established "Yari Association" with the help of Masoud Variani to take care of some Iranian children with financial or domestic problems. These children have never seen "Yari" members and refer to them as Angels.
Production year: 2015
location of production: Iran
Film format: Full HD
Duration: 9 minutes
One day in Salmaniya Hospital

This film is narrated in the Salmaniyeh hospital in Manama city, depicting protests of Bahrain people from 14 February 2011 until the previous year, the narrators of this film are the Bahraini youth.
Human rights condition and violation is the main subject of the film. The film starts with children holding Bahrain flags  on their fathers' shoulders in a peaceful protest, singing songs and being happy, and ends with wounded children in arms of a nurse running and crying in Salmaniyeh Hospital.
Production year: 2015-2016
location of production: Bahrain
Film format: 2K Cinema
Duration: 75 minutes
For Human
This film is about the biggest environmental project in Iranian private sector. Some young Iranian experts has put down waste carcinogenic with French technologies. It's the biggest site in Middle East and Asia and the third biggest waste incinerator in the world, built in the heart of Iran deserts.
Production year: 2016
location of production: Iran
Film format: 2K
Duration: 67 minutes
The Cage

"The Cage" based on the issue of anti-war, with thoughts and ideas of World's Peace under the subject of the Yazidi women who were captured as slaves by the terrorist group of ISIS, war-torn children of Kobani after this war, the negative effects of this war on the environment and the sustainability of development of the country, the IEDs in the nature and war-torn cities of Iraq, Syria and…
Production year: 2019
location of production: Iran – Syria
Film format: 4K Cinema
Duration: 90 minutes
Muddy Holiday

The spring of 2019 began in Iran with a pervasive flood that did not cover only one region of Iran, but embraced from the northeastern point of Iran to the southwest of Iran and the provinces of Mazandaran, Golestan, Fars, Khuzestan. , Attacked Lorestan and Sistan and Baluchestan in less than two weeks with heavy rains and caused billions of dollars in damage to agricultural lands, industry, etc.
But from the Abedin's point of view, this flood is the biggest documentary reference for the complete and correct knowledge of Iranians and the school of altruism in Iran for the world.
All the pure human moments of 3 months of voluntary activities of three generations of Iranians in helping their compatriots are depicted in this film, which …
Production year: 2019
location of production: Iran – Syria
Film format: 4K Cinema
Duration: 90 minutes
The Car

Baluchistan and the border areas of eastern Iran have always been full of border incidents and conflicts, and the people of these areas are among the most deprived people in Iran.
Armed conflict, drug and human trafficking, extremist religious groups, fuel trafficking and poverty have put the future of the new generation and children at serious risk.
A group of young Iranians, all of whom are part of the Offroad team of a grassroots humanitarian organization, go to the difficult border areas that government agencies have not been to for a long time or have not been able to go to, but the group goes to these areas to Be able to help poor and deprived people.
The people of some of these villages are deprived of electricity and urban water due to the impassability of their roads, and they have not seen a car for many years.
But in one of these villages, there are children who, dreaming of owning a car, have built cars for themselves that show their great talent and intelligence, but they are deprived of many facilities …
Production year: 2019
location of production: Iran
Film format: 4K Cinema
Duration: 90 minutes
Hidden Heroes
Dr. Alireza Naji is one of the top three Iranian virologists who, in the winter of 2020, at the same time as the corona virus epidemic in China, came across a suspicious virus in the tests of an Iranian patient and tried to prove that this virus is the same as the corona virus.
He is one of the first to identify the corona virus in Iran and is working with his forces in the laboratory of Masih Daneshvari Hospital, on the front lines of the fight against corona.
But most of his troops are volunteers and they work around the clock in the lab.
Production year: 2020
location of production: Iran
Film format: 4K Cinema
Duration: 77 minutes
Swimming with Tied Hands

Production year: 2020-2021
location of production: Iran
Film format: 4K Cinema
Duration: series 10 Part  of  30 minutes
Dance In death

The story of a day in the life of a young doctor who suffers from a lung disease from childhood that he accidentally contracted.
But at the moment,
she is treating patients with the Corona virus in the hospital, but he slowly realizes that he has also contracted the Corona disease, and …
Production year: 2020 – 2021
location of production: Iran
Film format: 4K Cinema
Duration: 110 minutes